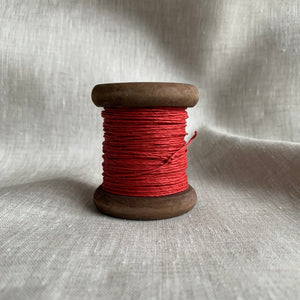 Apfelstrudel.ca
Dark Red (Red 190) - PaperPhine Strong Paper Twine on Wooden Bobbin
For an elegant and edgy look.
This dark red twine is wound around a new stained wood bobbin, handmade in Austria.
Note: this colour is darker than the other red twine called light red.
Twine length: 32 yards (30 metres)
Bobbin height: approx. 2.5 inches (6 cm)
Bobbin diameter: approx. 2.25 inches (5.5 cm)
PaperPhine, based in Austria, makes artisan-quality paper twine and paper yarn in irresistible colours, beloved by calligraphers and artists alike.
Made in Austria.
---